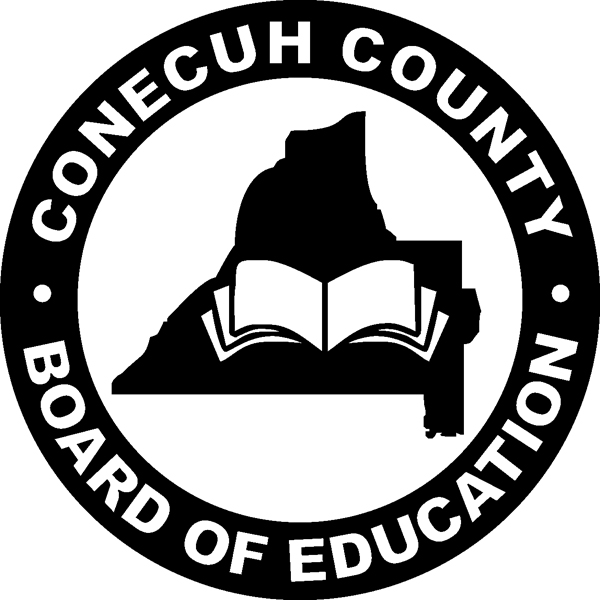 This page is our central hub of parental information, contact info, discipline forms, and more. Our goal is to provide parents with every resource they could need, and to be as transparent and straightforward as possible in our everyday business. Thank you for allowing us to serve you and your student!
Haga clic aquí para leer en español.
---
Reopening Schools- Parent Information
The first day of school for all students is August 20, 2020!
Revised 2020- 2021 Opening plan of Remote Learning
Welcome Back to school (How to enter a Virtual Classroom in Conecuh County Schools
**********************************************************************************************************************************************************************************************************************************************
Need to contact someone, but not sure who? Got a question for a school leader, but don't know how to contact them? No problem! Find all that, and more, here!
Here are our department heads, along with contact info.
Contact Dr. LeAnn Smith, Assistant Superintendent and Federal Programs Director, for questions about:
Phone:251-578-7073 ext. 4003
Fax: 251-578-7082
ESSA Laws

Grants

State Monitoring Compliance

Discipline Concerns

Suspension Appeals

After Principal Conference

School Continous Improvement Plans

School Enrollment

Teacher Effectiveness



Textbooks

English Language Learners (ELLs)

Federal Program Budget

Virtual Alabama (School Safety)


Homeless/Foster Care Information

State Assessments

Attendance Issues

Compliance
Contact Rita Young, Special Services Coordinator, for questions about:
Phone: 251-578-7073 ext. 4007
Fax:251-578-7082
| | |
| --- | --- |
| Child Find | IDEA Part B (Title VI-B) |
| Drug Education (Title IV) | Pupil Health Services |
| Gifted Education | Section 504 |
| HIV/AIDS Education | Special Education Services |
| Homebound Services | Speech Services |
Contact Pam Brock, Chief School Financial Officer, for questions about:
Phone: 251-578-1752 ext. 1203
Fax: 251-578-7061
Accounts Payable

Business Operations & Purchasing

Financial Reporting

Payroll & Insurance

Local School Accounting/Internal Audit
Contact Felicia Parham, Interim Transportation Director, for questions about:
Phone: 251-578-7075
Fax: 251-578-7091
| | |
| --- | --- |
| Bus Routes | Bus Safety |
| Bus Maintenance | Bus Drivers |
Contact Samantha Rudolph, Interim Child Nutrition Director, for questions about:
Phone: 251-578-1752 ext. 1205
Fax: 251-578-7061
| | |
| --- | --- |
| Child Nutrition | Breakfast and Lunch |
| Cafeteria Pricing | Dietary Restrictions and Allergy Policies |
Contact Maegan Ford, Curriculum Department , for questions about:
Phone: 251-578-1752 ext. 1210
Fax: 251-578-7061
| | | | |
| --- | --- | --- | --- |
| Curriculum and Instruction | Grading, Promotion and Retention Policy | ACCESS Distance Learning | Kuder Interest Inventories |
| | Graduation and Dropout Rates | Summer School | Four-Year Plans |
| | Counselors | Credit Recovery | Response to Instruction |
| Instructional Coaches | CCRS Team Leader | Credit Advancement | Strategic Teaching |
| End of Quarter Assessments | Twilight Program | Pacing Guides | Dual Enrollment |
If your family lives in any of the following situations:

• In a shelter, motel, vehicle, or campground
• On the street
• In an abandoned building, trailer, or other inadequate accommodations, or
• Doubled up with friends or relatives because you cannot find or afford housing
Then, your preschool-aged and school-aged children have certain rights or protections under the
McKinney-Vento Homeless Education Assistance Act.
Your children have the right to:
• Go to school, no matter where you live or how long you have lived there. They must
be given access to the same public education, including preschool education,
provided to other children.
• Continue in the school they attended before you became homeless or the school
they last attended, if that is your choice and is feasible. If a school sends your child
to a school other than the one you request, the school must provide you with a
written explanation and offer you the right to appeal the decision.
• Receive transportation to the school they attended before your family became
homeless or the school they last attended, if you or a guardian request such
transportation.
• Attend a school and participate in school programs with children who are not
homeless. Children cannot be separated from the regular school program because they are
homeless.
• Enroll in school without giving a permanent address. Schools cannot require proof
or residency that might prevent or delay school enrollment.
• Enroll and attend classes while the school arranges for the transfer of school and
immunization records or any other documents required for enrollment.
• Enroll and attend classes in the school of your choice even while the school and you
seek to resolve a dispute over enrolling your children.
• Receive the same special programs and services, if needed, as provided to all other
children served in these programs.

• Receive transportation to school and to school programs.
Please contact your child's school counselor or call 251-578-1752 ext. 4003 or 1208
---
Looking for Bullying/Harrasment Forms, or a Suspension Appeal Form? Find the links below, and fill out online.
Grievance/Complaint Procedures